A legacy of generosity The Dahl family pays it forward
by: Patrick Marek Dec 28, 2016
One of the best definitions of true philanthropy is "planting a tree that you are never going to get to sit under." If that is the case, then the first seeds to the Dahl family's philanthropic forest were sown in Westby, Wis., back in the late 1800s, when the city's popular gathering place, the A.H. Dahl & Co. General Store, became a Ford Motor Company agent. When the Model Ts lined up in front of the store began to be purchased by scores of happy customers and were flying down the streets of Western Wisconsin, it sparked a philosophy of giving back to the community that has flourished through five generations of Dahl family automotive ownership.
"It all started with the family's general store business," said Dahl Automotive President Andrew Dahl. "Every community had a general store. That's where you would get your dry goods, tobacco, clothing and groceries. It was a place to do your shopping, but it was a lot more than that. It was also a center of community … a place where people gathered. When my forefathers began selling Model Ts out of the general store, the bond with the community became even stronger.
"We began to realize that we were an integral part of the community," Dahl continued. "When you think about it, everybody needs a car, and everybody needs to service their car. The auto dealer is an important part of automotive ownership, and the experience you have at the dealership really sets the tone for your enjoyment of owning the vehicle. Our philosophy of doing business has always been to develop our teams and facilities so that guests can have a relaxing and positive experience whether they are purchasing a vehicle, or having their vehicle serviced. We also have perpetuated a core value that started way back in the general store days. We feel that because people are trusting us with such an important purchase, and its upkeep, we have a responsibility to give back to the community.
"My brothers and I are fifth-generation, and giving back is the core value, above all else, that has been passed from generation to generation. That's just the way it is. We're Dahls. We're in the car business. Our communities have blessed us, our families, and the team members who have alongside us. We feel we have a responsibility to give back the community … but it's not just a responsibility. We take a joy in being able to pick some amazing charitable organizations, identify areas of specific needs in each community, and then try to help meet those needs with the resources we have been blessed with."
It's easy to measure the positive financial impact that the over $26 million Dahl Auto Plaza and its over 100 team members have on Winona's economy and tax rolls. However, for Winona's arts and nonprofit community, the Dahl family's contributions of time, talent and treasure have created a positive ripple effect that has helped establish Winona as a regional arts destination and a better place to live.
Family and Children's Center
"The Dahl's impact on the Family and Children's Center goes two ways," said 
Board President Laura Eddy. "They give very generously, but they have also served on our board, and been very active in our organization. The Dahl's philosophy is humility-based service. They give their time, and they give their financial support. Not only are they givers, but they also encourage their employees to get involved and give. Their annual Lube-a-Thon is a whole day where they give free oil changes, with a free-will offering being donated to the Family and Children's Center. Their entire team is there all day donating their time, and that's over 100 employees.
"The Dahls contribute to Shakespeare, Winona State, District 861, Southeast Tech … the list goes on and on," continued Eddy. "They are very approachable. They are generous. They are very kind, and they are always open to listening. They even have a board room on their new campus that the community can use to have meetings. La Crosse has been fortunate to have the Dahls all these years, and now Winona is able to feel the positive impact of the Dahl's generosity."
Winona Family YMCA
"Early in my tenure here, I had the chance to connect with Andrew Dahl to find out what he knew about the community, and about the YMCA. I asked him what he could share as a new leader coming into Winona," said Derek Madsen, executive director of the Winona Family YMCA. "He had some suggestions that really helped me come on board, but he also had some discussions with me about creating a leadership team and how to develop staff and relationships. He shared the Dahl model of how they accomplish that. When we began our capital campaign we met with the La Crosse YMCA campaign leadership, and had the opportunity to meet with Harry Dahl. Harry helped counsel our campaign leadership to ask questions like: 'How do we do this? What will it look like? What are things we need to know? How do we build relationships?  How do we ask for contributions?' Harry gave us fantastic advice. It was a perfect first step for our campaign.
"When it comes to giving, the Dahl family walks the walk and talks the talk," Madsen continued. "They have been great philanthropic supporters of the YMCA. Early in the silent phase of our campaign they gave us an extremely generous challenge grant that really jump started our campaign. It was an astounding contribution, and really helped get our campaign leadership revved up. The Dahl family contributes to the things that are important in our community, and their testament to volunteer leadership is important too. It isn't just that they give money. They also reach back to the generations of success that they have had, and help share those lessons to help us be successful leaders."
Great River Shakespeare Festival
"The Dahl family has been engaged with the Great River Shakespeare Festival for many years. They were one of the first members of our leadership circle, and they really helped set the stage, paving the way for other businesses to follow suit," said GRSF Development Director Kelly Olson. "They have been very supportive of Winona arts in general, and have really played a large part in making Winona a true arts destination."
"They are amazing," said GRSF Artistic Director Doug Scholz-Carlson. "Not only are they financially generous with the festival, but they keep on looking for ways to help us make connections in the community. They are very engaged as donors. A lot of patrons will contribute to an organization, but then they don't really get engaged with it. I see the Dahls in the theater all the time, bringing their friends and family. They are authentically engaged in GSRF in a pretty remarkable way. They are generous, just for the sake of being generous, but they also recognize that an organization like GRSF can be good for the community, and good for local businesses."
Winona State University
"The Dahl family has had a very positive impact on our football program," said WSU Athletic Director Eric Shoh. "When we first met with Andrew Dahl and told him about our corporate sponsor program, it didn't take him very much thought at all. They got involved right away. Currently they provide us with two vehicles that our coaches can drive all over the country on their recruiting trips. Not only is that a huge financial benefit for our program, but it's also a great marketing tool for us, because the vehicles are wrapped with our colors and the WSU logo. There's a lot of other ways that the Dahls contribute to our program. If we ever need anything they are just a phone call away. They are in it for the right reason. They want to help support our student athletes. They are tremendous supporters of WSU."
Mid West Music Fest
"I met with Andrew Dahl for the first time about a year ago, and since then he has become a mentor for me," said Parker Forsell, managing director of Mid West Music Fest. "He has taken me out to lunch and we have talked about running a business, and the festival. When we decided to expand to La Crosse last year, he was very energized and helpful. Andrew is a member of the Development Committee for the La Crosse portion of the festival. He knows the whole picture of where the festival is at, and has been very complimentary and generous."
The Dahl team
A key factor in the Dahl family's core value of giving back to the community is to help inspire generosity in their team. Because of events like the annual "Lube-a Thon," members of the entire Dahl organization are able to work together to help benefit a deserving nonprofit organization. It builds teamwork, and helps make the Winona community a better place to live. 
"I think that in the big picture, the community looks at Dahl Automotive as being an important charitable contributor, and one of the many ways that they help give back to the community is by doing events like our annual Lube-a-Thon," said Dahl Chevrolet Master Service Technician Nick Kamrowski. "They are raising funds for Family and Children's Center that are very needed and much appreciated. I think it's a great way to help out the community, and we as team members are happy to contribute our time to the event. I think that the Lube-a-Thon is great for the team. We get to work together and help each other out. We're also able to give back to the community and have fun at the same time."
The future
"The Dahl core value of giving back will continue into the future," maintained Andrew Dahl. "We've got the sixth generation coming up. They're pretty young yet, and who knows if they are going to want to be in the car business. However, if that's where their passion leads them, then giving back to the community will be one of the core values that will be passed on to them."
-FOR IMMEDIATE RELEASE-
Groundbreaking Ceremony for the Remodeling and Expansion of the Dahl Ford Lincoln Dealership
Onalaska, Wisconsin - (April 6, 2015) - Dahl Automotive announces the groundbreaking ceremony for the remodeling and expansion of the Dahl Ford Lincoln dealership in Onalaska. The completed facility will feature state-of-the-art upgrades, including a new guest lounge in the service department, increased efficiency in the Quick Lane® and a 3,000 sq. ft. addition to the service shop. In the showroom, they will proudly feature a brand new delivery bay to ensure guests' comfort while taking delivery of their vehicle purchases, as well as a beautiful, remodeled guest lounge.
The Ambassadors from the La Crosse Area Chamber of Commerce and City of Onalaska officials will be present for the groundbreaking. Members of the Dahl family will speak briefly and snacks and beverages will be available to guests.
Dahl Ford Lincoln Groundbreaking Ceremony
Date: Monday, April 6, 2015
Time: 4:30 p.m.
Where: Dahl Ford Lincoln Dealership - 561 Theater Road, Onalaska, WI
"The Dahl family is excited to begin construction on the Ford Lincoln dealership in Onalaska.  The remodeling and expansion of this facility will give us the opportunity to better serve our guests in a re-designed Parts and Service center, as well as a fresh new showroom to showcase the Ford and Lincoln brands. This new image reflects the Ford and Lincoln modern Trustmark design," said Andrew Dahl.
Dahl is one of the oldest auto dealers in America, and has been in business for over 100 years. They currently serve guests in the Onalaska, La Crosse and Winona communities.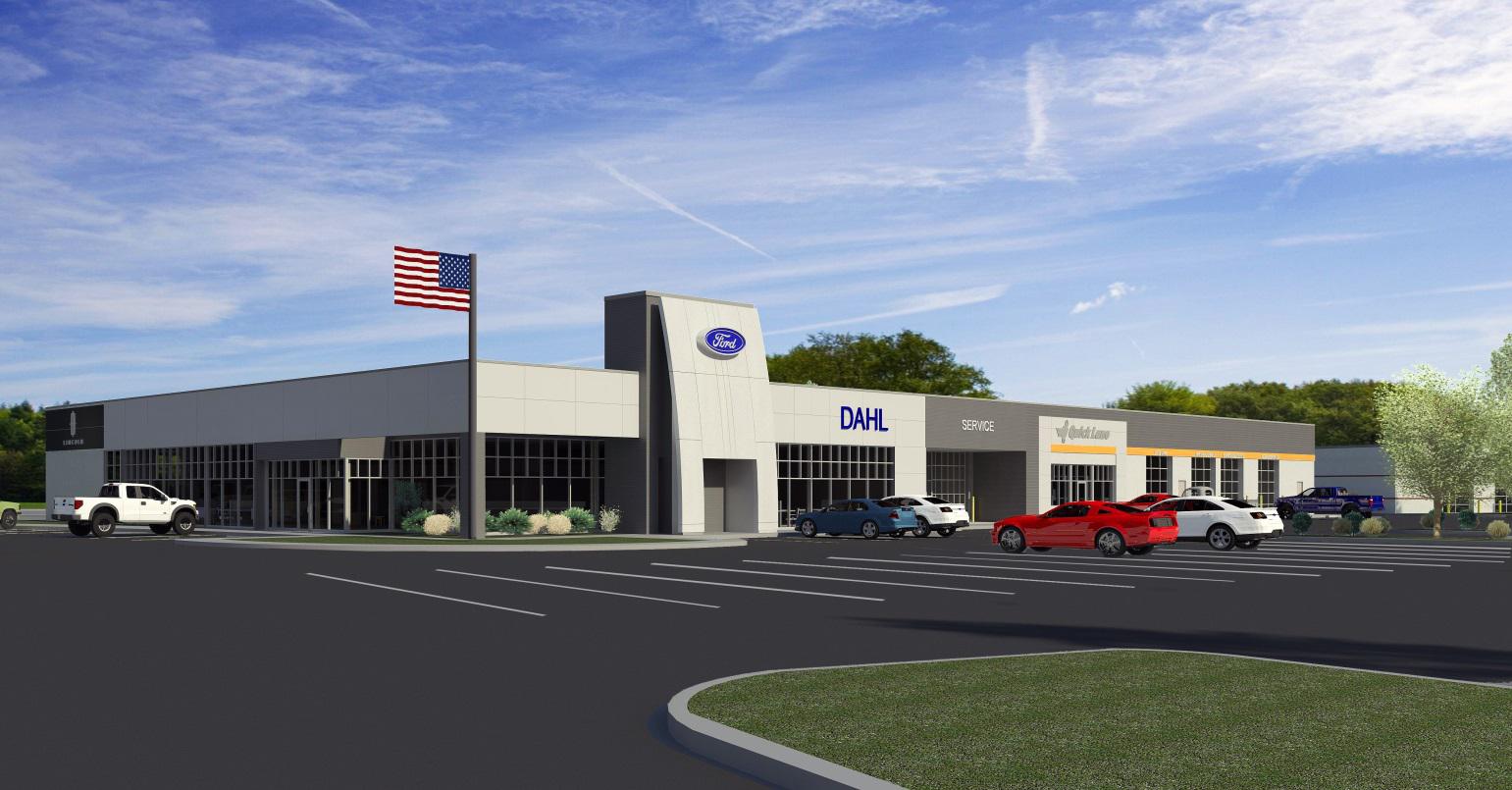 La Crosse, WI - Community and business leaders can access the knowledge and experience of world-renowned leaders by attending Leadercast® at The Weber Center for the Performing Arts in La Crosse on Friday, May 8, 2015, from 8:00am-3:30pm.
The Leadercast event is broadcast LIVE from Atlanta, GA to hundreds of sites around the world, including La Crosse. This year's speaker lineup includes:
Andy Stanley - Leadership author and communicator

Malala Yousafzai - Nobel Laureate; Founder, The Malala Fund

Ed Catmull - President of Pixar & Disney Animation Studios

Seth Godin - Best-selling Author

Rudy Giuliani - 107th Mayor of New York City (1993-2001)

Aja Brown - Mayor, City of Compton

Bill McDermott - CEO of SAP AG

CMDR Rorke Denver - Navy SEAL Commander & Author

Bill & Giuliana Rancic - Award-Winning Personalities & Co-Hosts of Leadercast

And more!
Last year, over 130,000 leaders from 35 countries attended Leadercast. Now, in its 16th year, this full day, experiential conference is on track to reach it's largest audience to date.
Leadercast is the largest one-day leadership event in the world. Dahl Automotive is proud to bring this incredible leadership development opportunity to the community. Andrew Dahl, President of Dahl Automotive shares, "Leadercast La Crosse is a way we can share our humility based leadership vision with the community.  The Dahl Automotive journey has been about preparing the next generation of leaders to lead in this new way. Leadercast La Crosse is an impactful, inspirational leadership day and we look forward to seeing local and regional leaders in attendance". We are grateful to our local sponsors for making this event a reality for our community: Viterbo University, Gundersen Health System, LHI, Community Credit Union, EO Johnson and Kaplan Professional Education.
Leadercast exists to positively change the way the world thinks about leadership. This year's theme-The Brave Ones - challenges leaders to lead with a sense of Bravery, possessing a posture of unrelenting boldness. Bring your friends or team members to experience Leadercast and discover what it means to be a leader worth following.

For more information about Leadercast, visit www.leadercast.com. For local ticketing information, call (608) 791-6442 or visitwww.leadercast.com/location/lacrosse
Dahl Onalaska Donates $2,500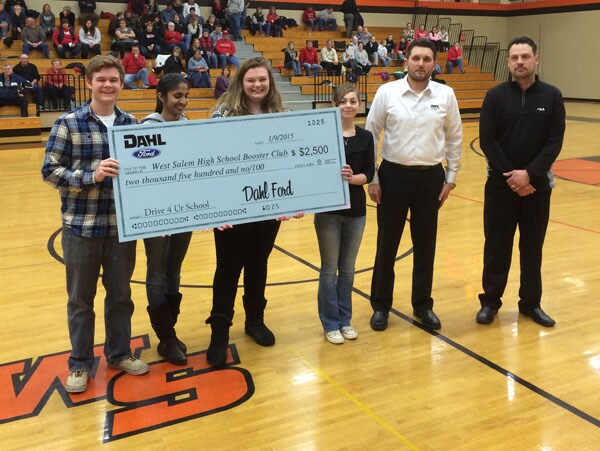 DECA and Dahl Ford raised $2,500 as part of the "Drive 4 Ur School"
promotion for the West Salem High School Booster Club.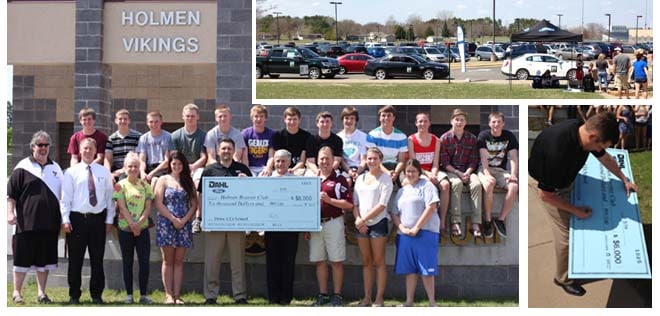 Drive 4 UR School - benefiting Holmen Booster Club (pictured)
Event was held on April 27th, 2013. 
10 Ford vehicles were displayed and available for test drive. Ford staff was onsite to answer any questions regarding the vehicles. For each vehicle that was test driven, Dahl Ford donated $20 to the Holmen Booster Club up to $6,000. More than 300 test drives were taken and a $6,000 donation was presented to the Holmen Booster Club. We were able to get students involved in the event & they helped drastically with the promotion of the event. In photo: Vinnie Pontius, Dahl Ford GM presenting the check to HHS principal, booster club members & sports marketing class.
Ford Soccer Skills Challenge
Date & location TBA
Dahl Ford is partnering with YMCA in an event that is geared toward getting youth active. Boys & girls will be split into age groups & will compete in basic fundamentals of soccer. YMCA coaches will work with youth during the competition. The first 50 registrants will receive a t-shirt.
Winners of the competition will receive a prize at the conclusion of the event & be invited to Regional Finals in Fall 2013. Parents/legal guardians who register their children will be entered to win a new Ford of their choosing up to $30,000 in a January 2014 random drawing. With a minimum of 50 participants, Dahl Ford will donate $500 to the YMCA.
6th Annual Lube-A-Thon - benefiting Family Children's Center
August 15th, 2015 at all of our stores

Guests will receive a free lunch, car wash & oil change with a minimum $10 donation. 100% of the proceeds will be donated to Family Children's Center. 
.